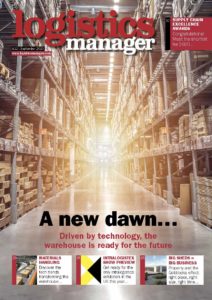 The September 2020 issue of Logistics Manager Magazine is now available to read online!
Inside you'll find detailed analysis on the future of intralogistics – form sortation to packaging, order picking to forklifts – as well as an in-depth preview of IntraLogisteX 2020, which takes place on 1st and 2nd October.
IntraLogisteX Preview: One Great Show!
Over 125 exhibitors will gather at the Ricoh Arena, Coventry, on 1st and 2nd October to showcase intralogistics innovation.
Supply Chain Excellence Awards shortlist: Congratulations!
The shortlist for the 24th Supply Chain Excellence Awards is revealed.
Supply Chain Sector Focus: Pallet Networks
Not too big, not too small… Investment in hubs and technology is transforming pallet networks.
Materials Handling Special
Sortation and Conveyors
The core component… Conveyors and sortation systems are meeting increasingly complex demands.
Order Picking
Picking a winner… Without accurate order picking, e-commerce cannot meet customer expectations.
Retail Packaging
Staying sustainable… Exploring the packaging cost of the e-commerce boom.
Forklift Technologies
Keep on moving… The future of battery-powered forklifts in the warehouse.
Property
Regional: M25 West
Wild, wild west? With supply constrained and demand resilient, securing space calls for true grit.
National: Big Sheds
New heights… Appetite for e-commerce is high, but are there enough big sheds to satisfy demand?
Also in the September issue… all the latest news from logistics, supply chain, intralogistics and property.