The September 2016 edition of Logistics Manager is now out in print and online. It is also available on iPad and Android.
Olympic Thinking
It's hard not to be impressed by the success of Team GB at the Rio Olympics – but are there lessons for supply chain professionals?
Outstanding achievements
The Supply Chain Excellence Awards have received a record number of entries, highlighting the outstanding work of supply chain professionals. Find out who made it to the shortlist.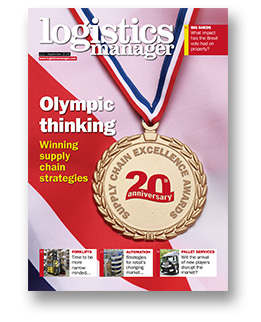 Pallet Networks:
New players set to disrupt market
The old certainties are under threat in the pallets market with changes of ownership and new entrants. We analyse developments.
Automation:
Strategies for a shifting retail landscape
Extensive choice is part of the new shopping experience. But how well is warehouse automation adapting to the growing presence of omni-channel?
Omni-channel: Better ways to reach the consumer
Europe's leading experts on online shopping and retail supply chain, to look the latest strategies for improving the customer experience  at the Omni-Channel Conference.
Forklifts: Time to be more narrow-minded    
Shifting consumer demands are prompting a warehouse design revolution. We explore where narrow aisle trucks fit into the new logistics landscape.
Show Preview: Time for IMHX
The essential guide to what to see and what to do at IMHX which opens at the NEC later this month.
Trailers: Getting hitched
Innovation has never been more important in the trailer market with pressure to maximise capacity, reduce fuel consumption and meet environmental requirements.
Big sheds: Reasons to be cheerful
With no apparent let up in the demand for warehouse space, what is the outlook for occupiers post-Brexit?
---
Click here to subscribe to the print edition of Logistics Manager