You can now order your copy of the Logistics Manager Top 50 Service Providers; an exclusive research supplement that benchmarks the performance of the most successful logistics service providers in the UK.
This exclusive research profiles the 50 fastest-growing logistics service providers, 3PLs, 4PLs and fulfilment specialists in the UK, including data on turnover, profit and margin performance. It also includes comparative performance data, profiling year-on-year growth.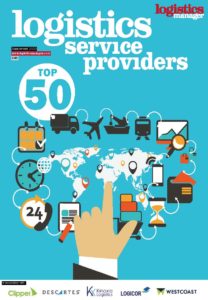 There are also a further 20 profiles of the businesses that are the 'Ones to Watch' – and are set the challenge the 50 fastest-growing businesses in coming years.
The supplement, available for just £40, also contains a further ranking, of the 50 largest logistics service providers in the UK by turnover. as a result the performance of some 70 businesses is contained within the research.
It also looks at the performance of the 25 largest logistics service providers in the world, details on the 20 largest shipping lines in the world, and contains exclusive profiles and interviews with Top 50 sponsors Clipper Logistics, Descartes, Kinaxia Logistics, Logicor and Westcoast.
To secure your copy email: daniel.jessop@akabomedia.co.uk