History shows that major global disruptors can accelerate market changes much sooner than anticipated, and the events of 2020 are no exception. Since March, consumer buying habits have shifted significantly most notably towards online fulfilment models.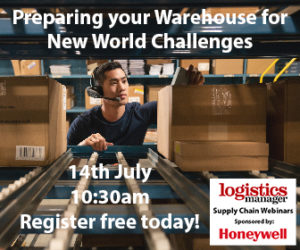 As a result, many distribution centre (DC) operations directors are now faced with managing these new expectations while adapting to emerging workplace safety requirements. As the UK adjusts to this "new normal," innovative strategies will be required to succeed in this environment.
This informative webinar will be presented by Darrel Williams, sales director (Europe) for Honeywell Voice. Darrel is responsible for business operations across 34 countries in almost every industry sector. He'll bring his unique insights on leveraging voice technology to address modern challenges. Attendees will learn how Honeywell Voice can help them:
Meet your new warehouse safety protocols
Streamline warehouse operations to meet varying customer requirements
Prepare for future changes and adapt to evolving challenges
Preparing Your Warehouse for New World Challenges, a Logistics Manager Webinar sponsored by Honeywell, takes place on 14 July at 10.30am. Register now for free.