The Seahorse Freight Association recognised excellence in journalism across the transport and logistics industry at its annual awards ceremony, held for the first time in four years and attended by more than 160 guests, in London.
Winning reports appeared in titles including Logistics Manager as well as other publications within the industry.
Logistics Manager's Editor, Michelle Mooney took home the Rising Star Award.
Michelle said that this was "a testament to the magnitude of Logistics Manager as a world-class leading title within the supply chain industry."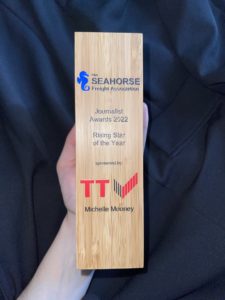 The awards were judged by 22 industry professionals from across the globe and drawn from all transport modes, as well as supply chain, technology, public relations, and journalism.
The panel included a 50/50 split of men and women, and a range of ages and experience.
The independent judging panel did not include any sponsor representatives, and no Seahorse Committee members took part.
"It is great to be back after four years, and we are so pleased to have received over 120 high-quality entries from journalists all over the globe specialising in different sectors for this year's awards," said Emma Murray, Seahorse Chair, and founder and Chief Executive Officer of Meantime Communications.
Seahorse was launched in 1962 with the aim of bringing together journalists, PR companies, and industry thought leaders in a relaxed environment to network and grow business.
This year, Seahorse has relaunched as a not-for-profit organisation with a new committee, including Emma Murray, Founder and CEO, Meantime Communications, Annie Roberts, Divisional Director, DVV Media International Ltd, Alex Lennane, Publisher, Journalist and Director, The Loadstar, Sue Terpilowski, Managing Director, Image Line, and Russ Green, Managing Director, RTG Communications.
Logistics Manager has an exciting year ahead, as we look forward to IntraLogisteX which will be collocating with Robotics and Automation on the 28th and 29th March 2023 at the NEC in Birmingham.
The mega event will bring together exhibitors and visitors from a wide range of industry disciplines, including automation, technology, robotics, intralogistics, warehousing, and more. The buzz the shows have already created is palpable and there is still time to register, so do not miss your chance for this most exclusive event!