London mayor Sadiq Khan has set out plans to cut the speed limit in London to 20mph.
The aim of the "Vision Zero" plan is to cut the number of people killed on London's roads by 65 per cent by 2022. In 2016, 56 people were killed on roads in inner London, while another 60 were killed in the outer London boroughs, according to Transport for London.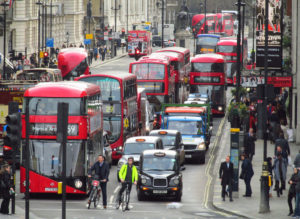 The 20mph limit would apply to all TfL roads within the congestion charging zone by 2020.
TfL is also proposing the introduction of 20mph speed limits on its road network in many of London's other town centres and high-risk locations across London by 2024.
It is aiming for 93 miles of the lower speed limits to be introduced on the totality of its road network.
The likelihood of a collision, and resulting death or serious injury increases substantially as vehicle speed increases.
The argument for the lower speed limit is that a pedestrian hit by a vehicle at 20mph, is are five times less likely to be killed than at 30mph.
Khan said: "At the heart of our plans is reducing the dangers of speeding vehicles across London, which is why we're proposing a new general speed limit of 20mph on TfL roads within the Congestion Charging Zone – protecting cyclists, pedestrians and all road users in the busiest part of the capital.
The mayor also reaffirmed his commitment to introducing a "direct vision standard" for heavy goods vehicles in 2020.
"The design of vehicles on London's road is also crucial," said Khan. "That's why we're using the latest safety technologies to transform London's buses and bringing in a world-leading safety standard for lorries, alongside investing record amounts in building new infrastructure to make walking and cycling a safe option in every part of the capital."