The November 2015 issue of Logistics Manager is available for iPad and Android as well as in print.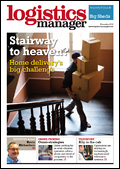 Cover Story: Stairway to heaven?
As Black Friday looms, retailers and home delivery providers alike are hoping they have got their preparations right and 2015 will be the year of the perfect delivery. We look at how delivery strategies have been evolving.
Analysis: End-to-End visibility
The European Logistics & Supply Chain Conference, which took place in Amsterdam last month, brought together key decision makers to examine the critical issues facing the industry.
Big Sheds: The perfect storm
Land availability for logistics development is under pressure from all sides. The question is: is there enough to satisfy demand in the next decade?
Order picking: Omni-channel strategies
Order picking for an omni-channel operation adds a whole new level of complexity to the process with the need to pick in quantities for store deliveries as well as picking individual items for home delivery.
Transport: Telematics under scrutiny
Commercial vehicle operations are making use of increasingly sophisticated telematics systems.