The October 2015 issue of Logistics Manager is now available for iPad and Android.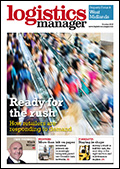 Cover Story: Ready for the rush?
Overwhelming demand may be an enviable problem, but have you  got the technology to handle it?
Conference preview: Supply chain scrutiny
Speakers from Heineken, Telenet, NRF, Kraft Heinz, and Sky Deutschland will be part of a stellar line up examining some of the critical issues in supply chain and logistics.
Forklifts: Staying in shape
Buying a truck is half the task, the next step is ensuring that the right service and maintenance regime is in place.
Supply Chain Planning: Last days of the spreadsheet?
In a dynamic business environment where complexity rules, advanced planning systems are fast becoming must have tools.
Printer

s: More than ink on paper
Industrial printers are increasingly being integrated into broader data networks as companies seek to take advantage of developments such as the Int

ernet of Things
West Midlands: Top of the pops
There is no doubting the enduring popularity of the region for logistics operations but could it be a victim of its own success.
M1/A1 North: Corridor of power
The arterial routes north from the Midlands are exciting interest from tenants.