Irish drinks group C&C has completed its purchase Conviviality's wholesale business which trades as Matthew Clark and Bibendum.
In a statement it said: "Further to the announcement this morning that C&C was in advanced discussions to acquire Matthew Clark (Holdings) Limited and Bibendum PLB (Topco) Limited ("Matthew Clark Bibendum"), C&C confirms that the acquisition has now completed in accordance with the terms set out in this morning's announcement. Accordingly, C&C now owns 100 per cent of the issued share capital of Matthew Clark Bibendum."
C&C, whose brands include Magners cider and Tennent's beer, was supported in its bid by AB Inbev.
Last week, Conviviality, which distributes drinks to some 25,000 hotels, pubs and restaurants, said it planned to appoint administrators within days after it failed to meet its refinancing target of £125 million.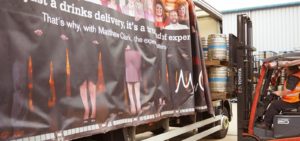 The wholesale business had been headed by Mark Aylwin, former supply chain director of Safeway, who stepped down in January 2018 after completing the integration of Matthew Clark and Bibendum into Conviviality Direct.
Conviviality's retail business, which trades under the Bargain Booze, Wine Rack and Select Convenience fascias, is not included in C&C the deal. Conviviality said it is in discussions with a number of other parties interested in the purchase of the Retail business.
Trading in Conviviality's shares was suspended on 14th March after it discovered a £30m payment to HMRC which it had not accounted for in its cash flow projections.
In the latest audited accounts for the 52 weeks ended 30 April 2017, Matthew Clark Bibendum had gross revenues of £1,219 million and adjusted EBITDA of £51.3 million.
However, in its trading update of 21 March 2018, the board of Conviviality PLC said that they expected that the adjusted EBITDA for the entire Conviviality group for the year ending 29 April 2018 to be in the range of £45.5 million to £46.0 million.
Gross assets of approximately £230 million are expected to be acquired at completion. Consideration for the shares would be a nominal sum, and C&C will provide sufficient funds to support the on-going working capital and other cash requirements of the business.
Customers of Matthew Clark Bibendum include JD Wetherspoons, The Ivy, Prezzo, Searcys, and Revolution Bars Group.
Conviviality operates a large distribution network with owned depots in Glasgow, Wetherby, Runcorn, Crewe, Newcastle-under-Lyme, Birmingham Shepton Mallet, Southampton, Crayford, Park Royal and Bedford.
There are five stockless outbases: Launceston, Didcot, Grantham, Boldon and Dundee.
There are also three depots operated by logistics partners: Reading, Bristol, and Bellshill.
C&C turned over €818.1 million in the year to 28th February 2017, down from €946.9m the year before. It made an operating profit of €95m before exceptional items, compared to €103.2m the year before.
As well as its own branded products, C&C has a substantial third party drinks wholesaling, own-label and agency distribution business focused on Ireland and Scotland.
The principal agency business is the AB InBev beer portfolio which C&C distributes in Ireland and Scotland (excluding Budweiser in the Republic of Ireland).
In its 2017 annual report C&C said: "The site rationalisation programme and our new distribution agreement with AB InBev will enable us to increase over time the proportion of direct supply to customers and reduce our footprint of distribution centres in the UK by the end of FY2018. Together with the Group-wide overhead reduction activity the site rationalisation savings helped to successfully deliver the €15m of cost reductions announced in March 2016.
Explaining the plan to buy the Conviviality wholesale business, C&C chief executive Stephen Glancey said: "We know the Matthew Clark and Bibendum businesses very well. They are great businesses with unparalleled on-trade market access, a wide range of supplier relationships and supported by a knowledgeable and loyal employee base.
"The last few weeks have been challenging for employees, customers and suppliers alike. We hope today's announcement can put an end to this period of disruption and uncertainty. We look-forward to working with our new colleagues and other stakeholders to bring stability and restore the group's position as one of the leading and most respected drinks suppliers to the UK hospitality sector."