The UK manufacturing sector showed signs of stabilising in June, following the steep slump caused by the Covid-19 pandemic.
According to the latest IHS Markit / CIPS UK Manufacturing purchasing managers index , output edged back into growth territory and manufacturing production rose slightly for the first time in four month as factories restarted, lockdown restrictions were loosened and staff returned to work.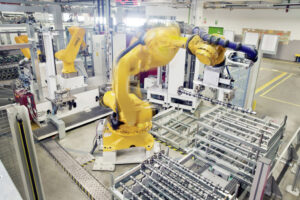 Rob Dobson, director at IHS Markit, which compiles the survey: "The planned loosening in Covid-19 restrictions on the 4 July should aid further gains in coming months. Although the trend in new export business remains weak, that should also strengthen as global lockdowns and transport constraints ease further."
However it did caution that the weak economic backdrop had led to lower levels of raw material purchasing and further depletion of stocks of purchases and finished goods. Furthermore the pandemic was also continuing to cause substantial disruption to supply chains, leading to material shortages, vendor shutdowns and transportation issues.
Duncan Brock, group director at the Chartered Institute of Procurement & Supply, said: "Output remains at low levels and the sector's weak position compared to pre-Covid levels means there is a significant amount of catching up to do before manufacturing can relax into a period of growth. Purchasing continues to be hampered by battered and bruised supply chains, logistics difficulties and longer delivery times for the twelfth month in a row as suppliers adjust to the new normal."

The 24th Supply Chain Excellence Awards, with new categories for 2020 – including the Manufacturing Supply Chain Excellence Award – will take place on 12 November. For more information, including how to enter and sponsorship opportunities, contact daniel.jessop@akabomedia.co.uk