Marks and Spencer has blamed supply chain issues for a 5.5 per cent fall in clothing and home sales during the first half of its financial year.
It said its clothing and home, as well as its food business had been held back by limitations in supply chain capability and it has now started a programme to improve availability, markdown, waste and reductions in store cost.
M&S said that "a fundamental rethink" was required when it came to the planning, flow, visibility and complexity of deliveries, which had resulted in poor availability and excess stock and markdown.
It said that many store deliveries are picked in singles, adding cost and complexity to all parts of the supply chain. As a result, its supply chain programme in clothing will look to improve understanding and its use of demand and fulfilment replenishment systems and better track stock from source to shelf.
Turnover for the six-months ending 28 September 2019 fell 2.1 per cent year-on-year to £4.8 billion, while pre-tax profit fell 17.1 per cent year-on-year to £176.5 million.
Chief executive Steve Rowe said: "In clothing and home we are making up for lost time. We are still in the early stages, but we are clear on the issues we need to fix and, after a challenging first half, we are seeing a positive response to this season's contemporary styling and better value product.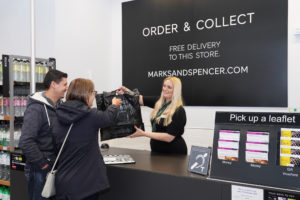 "We have taken decisive action to trade the ranges with improved availability and shorter clearance periods. In some instances, dramatic sales uplifts in categories where we have restored value, style and availability illustrate the latent potential and enduring broad appeal of our brand. Our cost reduction and store technology programmes are on track."
Turnover in its food business rose 0.9 per cent year-on-year, but M&S said that in Food it still trades with high levels of waste and low levels of availability.
In a trial in a York store, changes were made to all parts of the supply chain process including forecasting and allocation, the flow of goods, depot and transport optimisation and store processes.  It is now being rolled out to a further 85 trial locations.
M&S said that initial results of the trial demonstrated a "significant improvement in availability and waste levels and results will be assessed of the larger group following peak trading, before a wider roll out in 2020.
In addition, M&S said that work was being undertaken with its 3PL partner Gist to "unlock the opportunity to modernise and better integrate the network".
Online turnover at M&S.com increased 0.2 per cent due to issues with availability and product mix in what it described as "a slower online market".
On 5 August 2019 it completed the acquisition of 50 per cent of Ocado Retail.
By Christopher Walton