Marks & Spencer is to trial a liquid nitrogen-powered chilled trailer from Dearman.
Dearman will supply Marks & Spencer with a dual compartment Dearman Hubbard fridge unit on a on a refrigerated semi-trailer. This will be operated out of its Hemel Hempstead depot.
"Dearman's impressive liquid nitrogen technology has shown the kind of results it can achieve and we are excited to be partnering with them," said M&S fleet engineer Anthony Whitehouse. "Our chilled delivery trucks have a role to play in that and we believe Dearman's transport refrigeration unit could help us meet our emissions targets."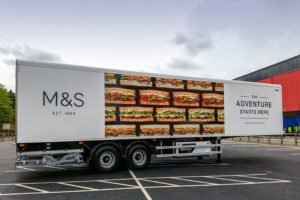 The venture seeks to quantify the costs and environmental benefits of Dearman's technology, eventually leading to a nationwide roll-out. It is also a logical step for Marks & Spencer's after the launch of its new sustainability plan Plan A 2025 last year.
Dearman is "delighted to be launching a partnership with a real heavyweight on the UK high street," said CEO Scott Mac Meekin.
Dearman's liquid nitrogen-powered engines are zero emission. They replace diesel-powered secondary engines in transport refrigeration units (TRUs). This system can cut CO2 emissions by up to 95 per cent when compared to a conventional diesel-powered TRU.
Dearman has also partnered with Unilever to trial the performance of its technology. In that trial the Dearman technology outperformed diesel both on economic and environmental grounds.