Mars UK and DHL have opened the second of two planned warehouses in the UK at London Thames Gateway in East London.
The facility will be used to serve the distribution of goods across all sectors of Mars UK's business: Mars Food, Mars Wrigley, and Mars Pet Nutrition.
This was part of a project announced when the two companies partnered in 2021 that included the construction of two new warehouses – the East Midlands Gateway facility that opened in May 2022 and this one that has just opened in London.
This £350 million investment in warehousing is part of a strategy to remove 7.7% of current Mars transport from UK roads, which it says will be equivalent to 1 million miles annually. Meanwhile, it has increased its warehousing capacity by over 50%.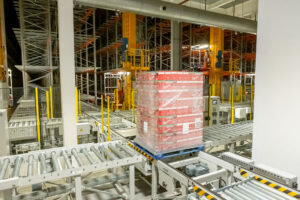 Sustainability has been a clear priority in the decisions surrounding the construction of these facilities. The London Thames Gateway site, which has achieved BREEAM 'Outstanding' certification, features 3,700 solar panels producing 27% of the site's power usage, LED lighting, and an automated storage and retrieval system (ASRS).
Other features of the warehouse include rainwater harvesting and infrastructure supporting high-frequency equipment charging – which DHL claims leads to a 30% decrease in energy usage.
Adam Grant, General Manager of Mars Wrigley UK, said: "Today is a major milestone for Mars UK's logistics operations and a meaningful step in our sustainability journey.
"Over the past few years, our partnership with DHL has seen the completion of two pioneering facilities.
"Not only does this futureproof our distribution practices, it also puts into action Mars's aim to create a world-class logistics operation that is sustainable, smart, and agile."
For more information on sustainable logistics, look out for a feature on the topic in the July issue of Logistics Manager Magazine.