IM Properties has submitted plans for the 165 acre Peddimore site in Minworth, Birmingham.
The application envisages the development of 2.657 million sq ft of warehouse space, which could create up to 6,500 direct new jobs and up to 3,000 supply chain jobs to support the site's potential occupiers across the manufacturing and logistics sectors.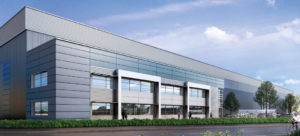 There are two indicative masterplans for the site across two development zones, Zone A and Zone B. According to the layout plans there could be plots on the site which could offer warehouses up to 1 million sq ft. Zone A which totals 91.5 acres  could accommodate a unit of up to 900,000 sq ft, while Zone B totalling 72.8 acres could accommodate a unit of 1 million sq ft.
The planning application is expected to be determined by Birmingham City Council in spring 2019 and, subject to permission being granted, work could begin on site as soon as summer 2019.
The planning application follows extensive pre-application dialogue with officers at Birmingham City Council and a major consultation, which included eight public exhibitions and a comprehensive programme of engagement with elected members, residents, community groups and businesses.
IM Properties was chosen by Birmingham City Council as its preferred partner for phase one of the regeneration of the Peddimore site near Sutton Coldfield in March 2018 beating developers Bericote and Prologis to be selected.
The first phase covers 91 acres of the 175-acre park with the second phase to be retained by the city council for development at a later date.
The council said the site had the potential to contribute £350 million to the local economy by attracting local, national and international occupiers.
The first phase of work will include a new junction on the A38, utilities and more than 484,000 sq ft of industrial floorspace within two years of the access being completed.
As part of the deal, IM Properties will take a 250-year leasehold on the site once it has completed certain works there with the option of buying the freehold at a later date.
The site is close to junction 9 of the M42 motorway, either side of the A38 Sutton Coldfield bypass.