The May 2018 edition of Logistics Manager is now out in print, online and for iPad and Android
Masters of the warehouse – ten critical issues
Industry leaders examine the top ten issues that will drive warehouse development in the future.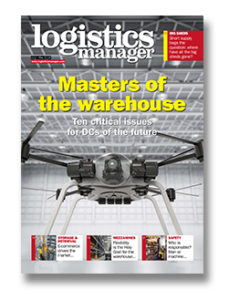 Storage & retrieval: Crossing the shadow line
The market for storage and retrieval systems is coming of age, bringing new levels of efficiency. We examine the way that e-commerce is driving the market.
Safety: Man versus machine
The number one concern in warehouse operations is to protect personnel from potential accidents. But, what are the main safety concerns in the warehouse and how can we guard against them?
Supply chain: Nurture what you already have
Nurture what you already have for success, Lucy Barks, head of contract manufacturing at Innocent Drinks, tells delegates at Supply Chain Conference.
Big sheds: Where have they all gone?
There is a lot of demand for big warehouse space, but there is a shocking dearth of supply.
Mezzanines: Reaching new heights
With the explosion of e-commerce, the flexibility that mezzanines provide is becoming the warehouse's Holy Grail.
North East: Room to move
Changing dynamics in the North could prove beneficial for occupiers.
Click here to subscribe to the print edition of Logistics Manager