A new exhibitor at IntraLogisteX this year is using the UK industry's biggest, best-attended and only annual intralogistics showcase to share its expertise with the industrial and logistics sector. Schneider Electric also happens to be one of the biggest companies in the world, with a global turnover in excess of £22 billion.
"We want to take visitors on a journey through the software, products and services that go hand-in-hand with delivering an efficient, resilient and sustainable warehouse and logistics footprint," reveals Damian Dowling, who leads Schneider Electric's freshly consolidated Logistics Segment (UK & Ireland) and will be on the company's booth (Stand 1000) alongside numerous other global experts to discuss the company's offerings for the distribution centre (DC).
Many people assume a 'smart warehouse' is smart as a result of the fulfilment technologies deployed inside it, but in actual fact 'smart' can and should be embedded into the heart of a DC's very makeup, from the ground up. On Schneider Electric's stand, visitors will be able to explore offerings in connected electrical infrastructure, automated operations, secure data facilities and integrated building management platforms – connecting multiple sites, whole building life-cycle services, fleet solutions, microgrids, and more.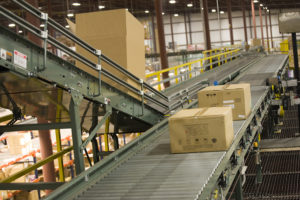 The push toward net zero is clearly a target for many companies and the recent spike in electricity pricing has shown why warehouse sustainability should be on everybody's radar. "These recent gas and electricity pricing issues, matched with the upcoming (regulated) move away from hydrocarbon fuels in the UK, means that warehouses need to become more energy-efficient if predicted demands are to be met," Dowling continues.
Recently, though, Dowling's colleague, Barbara Frei, Executive Vice President of Schneider Electric's Industrial Automation division, highlighted that many manufacturers lack visibility into when and where energy is being used. To capture greater energy consumption granularity, when and where it happens in the warehouse, the Schneider Electric Lexington Smart Factory leveraged IoT connectivity with power meters and predictive analytics to optimise energy costs. The result? "It led to a 26% energy reduction (GWh), 30% net C02 reduction and 20% water use reduction," Dowling reports. Now imagine those reductions in your own supply chain operations.
Getting to know you

After graduating from Trinity College with a Masters in Science, Damian Dowling moved from his home city of Dublin to the UK. Initially working as an Environmental Scientist, his background allowed for a diverse energy and sustainability career – from Geophysicist to Sustainability Partnership Manager – over the next 15 years.

Even though that experience was grounded on the technical, Dowling naturally progressed to a consultative approach on new and existing developments. Later completing a Masters in Psychology, his approach to projects is lived through a sustainable lens, where operational, human centric and commercial pillars are addressed equally.

During the pandemic, he concentrated on community mental and physical health, and currently volunteers as a Crisis Counsellor with SHOUT and as a Vaccinator with St. John Ambulance.
"An exciting area encompassing renewable technologies and long-term warehouse resilience is that of microgrids," Dowling notes. Schneider Electric's global expert on the topic will therefore be at IntraLogisteX to discuss some of the exciting projects that have delivered tangible results in other sectors – benefits that could easily be replicated in the industrial and logistics sector.
Of course, Schneider Electric is not just a supplier of smart technologies. It also operates its own highly efficient global supply chain, fine-tuned over many years. More than 80,000 people are working in its supply chain alone. The company has 150,000 order lines a day and a catalogue close to 300,000 references, distributed from 91 DCs globally, supplied by 183 factories. It has 14,000 suppliers, from which €7 billion of products are purchased. It understands the intricacies of making a global supply chain tick.
"Companies around the globe, in every sector, are making traceability a priority of their operational capabilities," suggests Dowling, especially as we have an opportunity post-pandemic to redesign the supply chain. In fact, a recent Schneider article discussed this very aspect. A consultation with more than 150 senior supply chain leaders suggested that 68% of executives view traceability as 'very or extremely important'. "In other words," Dowling adds, "we're quickly moving to a world in which secure end-to-end connectivity and digital avatars are replacing manually controlled tracking systems, providing far more than just visibility and transparency on where things are. As such, to help shrink the industrial carbon footprint, traceability can address three challenges across sourcing, production, logistics and a product's life-cycle, while enforcing greater transparency and accountability."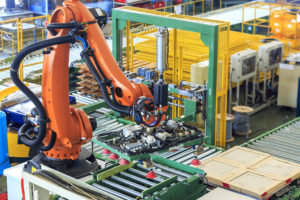 At IntraLogisteX, visitors can expect to see the future of warehousing (and warehouses) today – and Schneider's presence demonstrates this isn't solely the realm of digital transformation. For warehouse managers, though, one of the big challenges is standing-up to the rate of innovation and change needed to cater to what is becoming an increasingly rapidly changing marketplace. "This is a demanding slope of progress but one that can be met with success," believes Dowling. "The trend of customers moving to an online (warehouse distributed) model during lockdowns is only set to continue. There is no one off-the-shelf solution. That's why we have designed our IntraLogisteX stand to tell the full story of how connected innovation can secure success in this fast-changing environment."
Dowling is looking forward to seeing what else IntraLogisteX has to offer and while automation and robotics are being highlighted as a key element of the warehousing space, for Schneider Electric, putting people at the centre of your organisation remains key to moving forward in the next five years. "This 'human centricity' allows for early discussions on AI, robotics, digital twins and microgrids, leading to a resilient and hyper-efficient warehouse," he says.
Indeed, placing people central to their warehouse is core to Schneider Electric's 'Smart Building' approach. "We have all heard the concerns about automation over the years – echoing discussions within FMCG, banking, transport, etc. However, we also understand that neighbouring territories excel due to pick rates, flexibility and efficiency within fast-changing demand cycles. By empowering our workforces through up-skilling (operator training, emergency and hazard monitoring, virtual environments, inspections, etc), we can meet the need for automation while ensuring worker retention."
Schneider Electric is exhibiting at IntraLogisteX on Stand 1000. To register for the event, which takes place on 29th and 30th March 2022, at the CBS Arena in Coventry, please click here. More information about the UK's largest annual intralogistics event can be found at www.intralogistex.co.uk