Mercedes-Benz reckons it is on track for series production of its battery-powered eActros in 2021 following a series of real-world tests.
A 25-tonne eActros is currently commuting between the warehouse of Logistik Schmitt in Ötigheim and Rastatt's Mercedes-Benz Gaggenau plant some seven kilometres away.
The eActros has a range of up to 200 kilometres, and is currently covering a about 168 kilometres as part of a three-shift operation.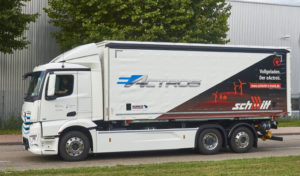 Stefan Buchner, head of Mercedes-Benz Trucks: "The Mercedes-Benz eActros is now integrated into daily operations by our test customers in Germany and Switzerland. Here, the eActros has already covered tens of thousands of kilometres. Even fully-loaded and regardless of hot or cold temperatures, it successfully completes its daily duties. This spurs us on in our aim to enable locally emission-free distribution with heavy-duty, series-produced trucks from 2021onwards. We are pleased that, together with Logistik Schmitt, we are able to further expand the testing of the eActros.
"We will also take the findings of this testing phase and apply them as part of the comparative drives planned with the eWayBW catenary project. First positive feedback from Logistik Schmitt has left us very optimistic."
The eWayBW catenary project involves delivering electric current to a hybrid truck from an overhead cable though a pantograph – similar to trains.
Sensors that are installed on the roof of the truck can detect whether there is an overhead line above the vehicle. If this is the case, the pantographs rise automatically and establish contact between the electric motor and the overhead line. When there is no catenary available the truck relies on its hybrid engine.