Mike Wallis, a main board director of Keswick Enterprises, is to chair this year's two-day Logistics Manager 3PL Conference 2015.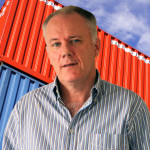 Taking place at the Forest of Arden Hotel, between Birmingham and Coventry on 6th to 7th May, the theme of the conference is collaboration between 3PLs and their clients. The event is designed exclusively for end-user logistics practitioners and operational 3PL professionals.
Mike Wallis is, unusually, a logistician with a degree in law. He has over 30 years' operational logistics experience, and has worked in freight forwarding, contract logistics, warehousing and account management on behalf of clients including Wal-Mart, Woolworths (South Africa), B&Q, Marks & Spencer, Sainsbury's and Unilever.
He is a former CEO of Tibbett & Britten Group plc in Germany, operations director of Tibbett & Britten Europe, Retail Sector Director UK for Tibbett & Britten in 2002–4, and was responsible for Operations & Strategy for Exel plc in South Africa and Australia from 2004–5.
He joined The Keswick Enterprises Group in 2006, and is now Chairman of Spatial Global – its UK-based freight forwarding, mail, logistics and courier member company – plus joint managing partner of Graphene Partners, the Anglo-Polish logistics consultancy and advisory joint venture.
Wallis said: "After my Graphene colleague Adam Chazanow's successful chairmanship of the Logistics Manager 3PL Summit last year, I had no hesitation in accepting Akabo Media's invitation to officiate at this forthcoming 3PL event in Birmingham. The conference is designed only for operational logistics practitioners, and offers high-level learning and networking opportunities. It has attracted excellent speakers, and we are inviting attendees to submit their questions before the event if they wish. Although 7 May is the date of the General Election in the United Kingdom, the organiser anticipates that there will be plenty of time for delegates to return home and reach their polling stations afterwards, and I look forward to seeing you there!"
For more information see http://www.3plconference.co.uk/ and http://www.keswickenterprises.com