Missguided's new purpose-built warehouse at Grand Central, Manchester, operated by XPO Logistics, has been officially opened.
The online fast fashion retailer Missguided, which was launched in 2009, signed a long-term contract with XPO in 2015 for inbound and outbound logistics.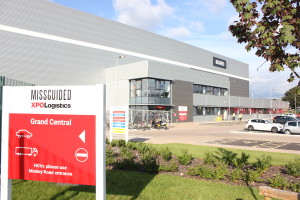 The hub will operated 24 hours a day, seven days a week and is expected to create 900 jobs. It will eventually have a total floor space of more than one million sq ft – more than five times the size of the previous warehouse – with four internal stories of stacking space and 198,000 storage slots.
XPO currently handles the e-fulfilment of approximately 150,000 orders per week for retailer, along with returns.
Brett Young, operations director for Missguided, said: "We initially handled our own logistics, but as the company continued to grow we needed to turn to experienced professionals. Working with XPO has allowed us to improve the overall customer experience, as well as concentrate on expanding our business by focusing on the fashion that our customers love."
Peter Fuller, business unit director for XPO Logistics, said: "We have already begun hiring at the Grand Central facility to ensure that their growth is underpinned by seamless logistics and flexible capacity. Our focus is on driving even greater productivity for Missguided as their volumes increase, building on the accomplishments of the past year."