The government has launched a consultation into transparency in supply chains following the independent review of the 2015 Modern slavery Act which came up with a series of proposals to toughen up existing legislation.
The move comes just days after eight people were jailed for operating a modern slavery ring that exploited 400 victims trafficked from Poland.
Home secretary Sajid Javid said the government accepted many of the recommendations of the independent review, but some recommendations needed further consultation to determine the best way to deliver them. "To inform this work, we are publishing a public consultation on transparency in supply chains".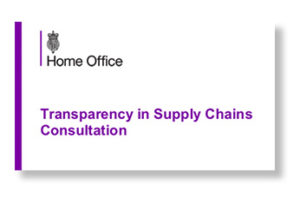 The consultation focuses on proposals to make reporting of specific topics compulsory, pointing out that in 2018 the Business & Human Rights Resource Centre reported that while 41 per cent of FTSE 100 reported on their slavery and trafficking policies, only 17 per cent reported on effectiveness, highlighting inconsistency across the reporting areas and a lack of uptake in voluntarily covering the Home Office's suggested content.
The questions cover what is reported, the time it takes to collect the information, and what information should it be mandatory to report.
A separate set of questions look a whether there would be any challenges associating with requiring organisations to publish their modern slavery statement on the government registry, and what features should a central registry include.
The consultation "Transparency in Supply Chains" ends on 17th September.
You can download the consultation document here.
The government is also investing £10 million to create a Policy and Evidence Centre for Modern Slavery and Human Rights.
The new research centre, funded by UK Research and Innovation Strategic Priorities Fund and led by UKRI's Arts and Humanities Research Council, will bring together academics, businesses and charities to drive forward new studies, share knowledge, and improve collaboration both at home and overseas, to further strengthen our response.
Prime Minister Theresa May said: "More than a 100 years ago the world condemned slavery to the history books, but the stark reality for around 40 million men, women and children is that they are still trapped in modern slavery.
"As both Home Secretary and Prime Minister I have endeavoured to shine a light on this hidden crime, to speak out for victims and put modern slavery firmly on the domestic and international agenda.
"There is much we can be proud of in our progress so far, but we need to accelerate our efforts, better share knowledge and build on our expertise.
"That is why we commissioned an Independent Review of the Modern Slavery Act to ensure our laws are keeping pace with the rapidly evolving nature of these crimes, and why I am pleased to support new, innovative research to inform global efforts to end this barbaric crime by 2030."