Ocado made a gross profit of £45.1m from its relationship with Morrisons last year – helping it to its first ever pre-tax profit.
"The successful launch and smooth ramp up of Morrisons.com was particularly encouraging and paves the way for future agreements to commercialise the value of our intellectual property," said Ocado CEO Tim Steiner.
The online retailer is now looking for more partners. "During the period, we started to engage in more detailed discussions with several parties with a view to use Ocado Smart Platform to drive the launch or growth of their online businesses," said Steiner in his business review.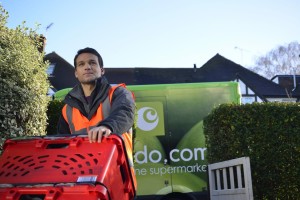 "We expect to incur up to £5 million in 2015 in additional administrative costs to enable us to develop the Ocado Smart Platform capability further and negotiate platform service agreements. We are targeting to sign the first such agreement during 2015 although there is no guarantee we can meet this timeline."
Pre-tax profit for 2014 was £7.2m compared with a loss of £12.5m in 2013. Excluding Morrisons, Ocado's revenue was up 15.3 per cent to £903.8m. It said that revenue growth was driven by an increase in average orders per week to 167,000, up from 143,000 in 2013. This was offset by a reduction in average order size, down from £113.53 in 2013 to £112.25 in 2014.
Distribution costs increased 14.6 per cent to £193.2 million – lower than the growth in retail sales of 15.3 per cent. Operational efficiency improved at both its operational distribution centres: CFC1 and CFC2.
Overall mature CFC units per hour (UPH) in the second half was 147 in 2014 (for CFC1 and CFC2 combined) compared with 135 in 2013 (for CFC1 only).
Deliveries per van per week rose to 163 from 160 in 2013 as customer density improved as a result of the increase in orders with only a modest growth in geographic delivery areas, offset by a reduction in road speeds due to increased congestion and an investment to improve on time delivery in a number of locations. Deliveries on time or early improved from 95.2 per cent in 2013 to 95.3 per cent in 2014.
During the period Ocado opened a four new spokes in Ruislip, Enfield, Sheffield and Knowsley to increase its distribution capacity rather than to grow our geographic coverage. As a result, spoke fixed costs as a percentage of sales increased, but are expected to reduce as the business scales and the capacity is more fully use.
We continue to receive interest from a broad group of potential international partners to discuss how we might assist them in introducing or improving online business in their own markets. We have now combined our end-to-end technology platform with our modular infrastructure solution to form "Ocado Smart Platform" as a single service offering. We will make this available to potential partners to power their online grocery retail businesses.
Ocado is now working on two new CFCs – Andover in Hampshire and Erith in South East London.
Work has already started at Andover and it is expected to open at the end of 2015. It said CFC3 would add 65,000 orders per week (OPW) capacity to its operation at a capital cost of £45 million for the MHE.
Last month, Ocado signed a 30 year lease for a 600,000 sq ft facility at Erith in South East London which is expected to be operational by 2017. It expects The MHE solution in CFC4 to cost £135 million and will add over 200,000 (OPW).
"Both of these CFCs will use our new proprietary fulfilment solution, and we expect them to be more efficient than our existing CFCs," said Steiner.
"Overall, we are well equipped to continue to lead the online grocery revolution, in the UK and overseas, as increasing numbers of customers shift away from traditional forms of retailing. We are confident that we have significant opportunities for growth in sales and shareholder value."