Marks & Spencer is to use Doddle technology on its existing in-store devices to enable customers to return goods at its Simply Food stores.
Until now, customers have been able to collect online purchases from M&S Simply Food stores, but they could only return goods at large M&S stores.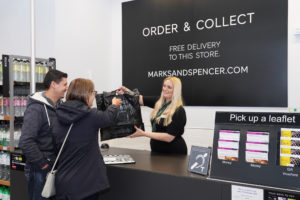 The system, using Doddle's "Powered by Doddle" technology, was initially trialled in seven locations from June 2017 and will now be available across 280 Simply Food locations, with more stores planned throughout the year.
Richard Pugh, Head of M&S.com Logistics & Returns, said: "We've responded to increasing demand from our customers for more choice and convenience when it comes to collecting and returning their online orders. Providing customers with a consistent customer experience, regardless of which Marks & Spencer store they're in, is key to making every moment special.
"Doddle delivered a solution that put our customers at the heart, while providing our carrier partners with more visibility to work efficiently and supported store colleagues to deliver brilliant customer service. We are now better equipped to provide customers with quick and easy returns and refunds."