Marks & Spencer is to invest £750 million in a joint venture with Ocado that will give it a home delivery service for its food offering for the first time.
The joint venture, which starts when Ocado's existing sourcing agreement with Waitrose ends in September 2020, give M&S a 50 per cent stake in Ocado's UK grocery retail business.
M&S chief executive Steve Rowe said: "I have always believed that M&S Food could and should be online.
"Our investment in a fully aligned joint-venture with Ocado accelerates our Food strategy as it enables us to take our food online in an immediately profitable, scalable and sustainable way.
"This is a transformational step forward in shaping the future of M&S and in becoming a truly digital first retailer with at least a third of the business online."
And Ocado chief executive Tim Steiner said: "We believe that this is the best outcome for customers, offering even greater range, service, quality and value; the best outcome for our Ocado Solutions partners, creating a stronger platform from which to innovate and develop our unique and proprietary technology…"
The deal with M&S means that Ocado will receive £562.5 million cash upfront, with a further cash payment of £187.5m deferred for five years.
Ocado said that based on 2018 reported results adjusted for the contracts being put in place with Ocado, the joint venture would have had 2018 revenue of £,468m and EBITDA of £34.2m, before fee savings associated with the replacement of Waitrose with M&S as a sourcing partner – over £15 million in 2018.
M&S reckons it can achieve synergies of some £70 million a year by the third year following completion. It also sees cross-marketing opportunities for its Clothing and Home products.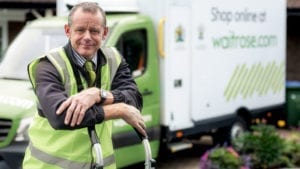 Waitrose has worked with Ocado for 19 years, but in recent years it has also been expanding its in-house home delivery business, Waitrose.com, which it plans to double in size over the next five years. The service currently uses a mix of deliveries from store and through a fulfilment centre in Coulsdon. It is planning a second fulfilment centre to support its growth in London from the end of this year.
Rob Collins, managing director Waitrose, said: "Waitrose.com sales are growing at 14.2 per cent, well ahead of the market, and customer satisfaction scores for both fulfilment and the website are showing sustained and significant increases too.
"We are planning a second fulfilment centre to support our growing volumes in London and will be able to welcome thousands more online customers to Waitrose from the end of this year.
"We have valued our relationship with Ocado and thank them for the last 19 years."
Marks & Spencer has trialled and online grocery service in the past but said it "was uneconomic due to the high cost of manually picking from store, including costs associated with moving stock from distribution centres to stores and store replenishment costs".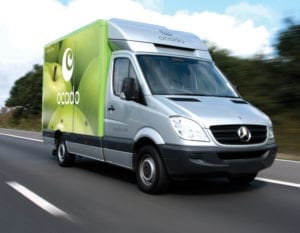 Under the terms of the new joint venture Ocado will transfer retail customers, sales and supplier relationships, some vehicle assets and central retail functions to the JV. The JV will carry out all pricing, category management, marketing and brand communications. Ocado will provide the end-to-end e-commerce platform and access to throughput and service levels from CFC technology in return for an OSP fee paid by the JV under a long-term contract. Ocado will provide third-party logistics services to operate the CFCs and driver management for a management fee from the JV. M&S will provide its product range and development capabilities to the JV at cost from September 2020 at latest.