Marks & Spencer has unveiled plans to cut £500 million of costs, including £60 million in its clothing and home logistics functions, as it anticipates a 70% reduction in volume in some areas of its business due to the impact of lockdown.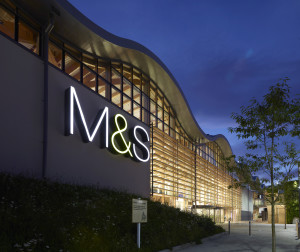 Forecasting sales volumes for the remainder of the year M&S said that in its clothing and home division, it was anticipating a 70% decline in revenue for the four months to July and only a gradual return to original budgeted levels by February 2021. This level of volume declines, it said, would impact annual revenue by some £1.5 billion.
In its food division it is anticipating a 20% decline in revenue for the four months to July, with revenues level thereafter. This level of volume declines, it said, would impact annual revenue by £400 million.
In a statement to investors M&S said one of its biggest challenges was the mounting backlog of unsold stock for Spring/Summer 2020 and the forward pipeline of stock already ordered for Autumn/Winter. It said it had closed financial year 2019/20 (on 28 March 2020) with clothing and home stock of some £500m and, at that time, had committed forward orders of £560m scheduled to arrive in the following six months.
It said that as lockdown eases a large proportion of current season stock will remain unsold and demand  is likely to be weak.
To mitigate this M&S has cancelled £100 million of late summer stock, and has secured storage facilities to hibernate around £200m until Spring 2021 of unsold seasonal stock. However, circa £400 million of orders for year-round basic products will be carried forward at what it described as low risk, despite the short-term increase in stock carrying levels.
Ocado joint venture
M&S said that Ocado Retail had seen revenue in the nine weeks to 3 May rise 40.4%. Ocado Retail switches from its Waitrose supply contract to M&S on 1st September.
The retailer said it had added over 6,000 M&S lines to Ocado from September compared with just 4,000 Waitrose lines which will be removed from the site. It said it was in the process of finalising product data sets for online trading, supply chain processes for direct to customer fulfilment centre deliveries and switchover procedures for September .
It said it was also negotiating supplier terms and other working arrangements to "deliver synergies" as well as agreeing through Ocado new supply agreements with branded suppliers to improve M&S competitiveness in branded sourcing
M&S would also bring onto Ocado Retail some 1,600 core clothing and home lines per year to provide a further route to market and a customer acquisition channel. Its Autumn range will be launched in September with some 850 lines made available.
M&S chief executive Steve Rowe said that its 2019/20 performance seemed like  "ancient history" as the "trauma of the Covid crisis" had galvanised it to secure the future of the business.
"From the outset we recognised that we were facing a crisis whose effects and aftershocks will endure for the coming year and beyond: Whilst some customer habits will return to normal others have changed forever, the trend towards digital has been accelerated, and changes to the shape of the high street brought forward. Most importantly working habits have been transformed and we have discovered we can work in a faster, leaner, more effective way," he said.

The 24th Supply Chain Excellence Awards, with new categories for 2020 – including The Retail Supply Chain Excellence Award – Sponsored by DP World – will take place on 12 November. For more information, including how to enter and sponsorship opportunities, contact [email protected]