Specialist division of Briggs Equipment Briggs Defence has undertaken a contract with the Defence Equipment and Support project team at the Ministry of Defence to equip Royal Navy's flagship aircraft carrier HMS Queen Elizabeth and sister ship HMS Prince of Wales with specially modified materials handling equipment.
Once both carriers are complete, they will be equipped with a total of 14t diesel counterbalance trucks, two 3.0t electric forklift trucks, two telehandlers, twin drive electric power pallet trucks, mobile elevated working platforms and Hako Combi 400 scrubber driers for cleaning duties.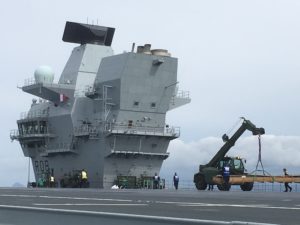 The forklifts have been specifically modified with special 'tie-down' fittings and the twin drive provides additional traction in difficult operating conditions.
"Briggs Defence's role in supporting the Royal Navy's new aircraft carriers demonstrates its ability to deliver a comprehensive solution for the most challenging of military environments. Briggs ensures we can deploy the latest materials handling technology to enhance capability," said contract manager for defence mechanical handling equipment and protected plant contracts in the DE&S project team.