Network Rail has launched a campaign to cut the £23 million cost of bridge strikes under the slogan "Lorries can't limbo".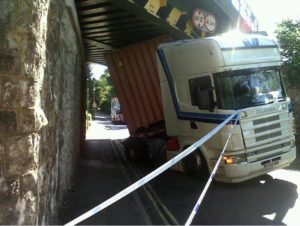 The campaign is aimed at professional HGV drivers and others who drive high-sided vehicles suggesting they need to "wise up and size up" their vehicle and plan their route before they head out on their journey.
Last year the number of bridge strikes across the rail network rose making it the worst year for bridge strikes for five years.
Each year there are about 2000 railway bridge strikes, with each costing more than £10,000 for repairs and compensation to train operators for delays caused.
Network Rail said compensation costs it up to £13m a year, but the true annual cost is estimated to be up to £23m, once the value of undelivered goods, lost productivity from train delays and road congestion are taken into account.
Research carried out by Network Rail, suggested that 43 per cent of lorry drivers admitted to not checking the height of their vehicle before heading out, with 52 per cent admitting to not taking low bridges into account when planning their journeys.
The campaign focuses on education of drivers and employers, engineering and signage, enablement technology in HGV cabs, and the enforcement of penalties.