Mercedes Benz has launched a new Actros model with a "partially automated" driving facility, Active Drive Assist, which can brake, accelerate and steer independently.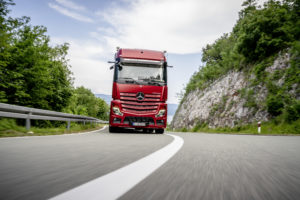 Active Drive Assist offers the driver partially automated driving in all speed ranges for the first time in a series-produced truck. New elements are active latitudinal control and the combination of longitudinal and lateral control in all speed ranges through a fusion of radar and camera information.
The system builds upon existing adaptive cruise control with stop-and-go function and the lane-keeping assistant from Mercedes-Benz.
The company said that responsibility for monitoring the traffic situation remains with the driver, but the system provides significant support and makes an important contribution to increased road safety.
"Just four years after the presentation of the Mercedes-Benz Future Truck 2025 driving in automated mode, we are launching the new Actros with the world's first partially automated assistance system in a series-produced truck," said Stefan Buchner, head of Mercedes-Benz Trucks. "
We at Daimler Trucks are thus further extending our leading role for automated driving. When fitted with Active Drive Assist, our new Actros makes the logistics business significantly safer for all road users and more efficient for our customers."
The company has also improved the fuel consumption the truck saying that compared to its predecessor it gives savings of up to three per cent on highways and up to five per cent on country roads.