Speciality chemical company Croda Europe has pre-let a 376,150 sq ft distribution warehouse on the Goole 36 Enterprise Zone in East Yorkshire.
The property is to be developed by Tritax Big Box REIT's dedicated logistics developer, db symmetry.
The facility is being let on a 20 year lease at a rent of £1.3 million a year subject to an annually payable RPI linked rental uplift of between 1 per cent and 3 per cent a year.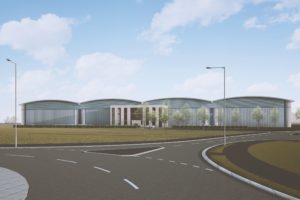 LondonMetric Property has agreed to forward fund the scheme to the tune of £24 million reflecting a yield on cost of 5.2 per cent.
Initially there will be a 232,150 sq ft first phase of the warehouse facility. There is planning for a further 140,000 sq ft extension on the 33-acre site, which will be developed at a later date.
Croda, which creates, makes and sells speciality chemicals, has announced it is to invest more than £7 million into the fit out of the new facility. The site will become its worldwide distribution hub for products made at its three northern UK manufacturing sites and for the European delivery of products made across its global network.
dbSymmetry has worked closely with Croda to design and build a warehouse to exceptionally high safety and environmental standards. Energy and water saving measures will be key features of the project, combined with a zero waste to landfill policy. Investment in new automated processes and an anti-collapse racking system will offer the highest level of protection to employees at the site.
Speaking about the deal, Freddie Oakey, associate development director at Tritax Big Box REIT's developer, db symmetry, commented: "Over the last 18 months we have become increasingly active in Yorkshire, identifying strategic sites where we can develop large scale logistics schemes. Goole 36 alongside the existing Capitol Park site is already well-established and the letting to Croda will only further increase Goole's standing as a premier logistics destination in the North."
Located adjacent to Junction 36 of the M62, the 33 acre site will have a very low site density of 16 per cent. Construction commences imminently and is expected to complete in mid-2020.
Andrew Jones, chief executive of LondonMetric, said: "This latest distribution investment is let to a high quality occupier who is an existing customer of ours. It benefits from a very long lease at an attractive yield that is inflation linked and will further improve the quality of our portfolio as well as offer further occupier-led development potential."