Pall-Ex has opened a new northern hub in Warrington to service 19 members across the north of England and Scotland. It replaces the previous facility in Carlisle.
The hub will be operated by Pall-Ex member Currie European, at its site five minutes from J20 of the M6, and 12 minutes from the M62. It is expected to see a 400 per cent increase in pallets moving through the north.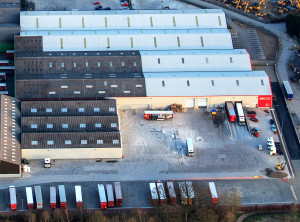 Pall-Ex managing director Kevin Buchanan, said: "This new northern hub will allow Pall-Ex to process a much larger volume of freight, benefiting the entire network, as well as the north of the UK.
"Trunks from our northern depots will be processed through the Northern Hub, resulting in reduced travelling costs and improved operational efficiencies. It's testament to the strong, growing and supportive freight network that Pall-Ex is."
The hub can offer 30,000 square feet of warehousing space as well as two acres of available parking for lorries. Stephen Turner, managing director of Currie European, said: "Taking responsibility of Pall-Ex's northern hub will allow us greater capability to transport freight across the north of the UK, and will no doubt have a positive impact on providing a quality service to the whole of the country too."