Mitsubishi has launched a low level order picker, the VELiA, that it says will boost throughput by 20 per cent in a typical warehouse.
The 1.0 to 2.0 tonne order picker uses a walk-through cabin so that, rather than walking around the machine, the operator uses the cabin as a direct walkway to the picking point.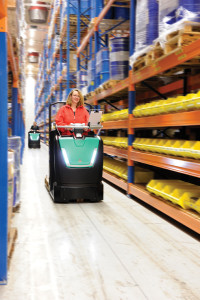 Mitsubishi says it has redesigned the cabin to deliver 40 per cent greater space for the operator and a step height of 105 mm to reduce operator strain.
The entire floor mat acts as an activation sensor allowing the truck to move as soon as the operator is in place. It also acts as a dead man pedal, ensuring that every driver can find a comfortable position even when reversing.
The truck has a programmable controller that allows the acceleration, speed and braking settings to be tailored to suite the operator and the application.
The electric steering system automatically reduces speed while cornering and features automatic drive wheel centring.