NewCold has unveiled its four million cubic metre frozen storage and distribution centre at Wakefield.
The 16.5 acre Wakefield site will handle 3,000,000 pallets annually. It has the capacity to store 143,000 pallets – at a constant, minus 23 degrees.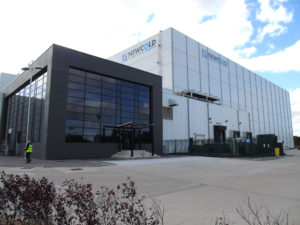 Speaking at the opening NewCold country director Jon Miles said: "Today sees the culmination of six years dedicated work, and the opening of a food-handling facility which, in terms of size, performance, sustainability and low energy consumption, raises the bar to new heights – until now, not seen in the UK."
The plant is fully automated and minimal handling maintains product temperature, at all times. The operation is driven by Davanti software. Some 175 pallets can move in and out every hour. Just five minutes is required to unload NewCold's bespoke-designed moving floor trailers.
NewCold's founder and chief executive Bram Hage said: "This is the coming together of talented people, both from NewCold and our many supply partners and customers, to formulate a truly global consolidation of skills and recourses in the supply chain."