Next has said there is "no way of predicting" the extent that the effect coronavirus will have on its online and retail divisions.
While the retailer warned that its online sales will suffer less than its in-store sales, it did say there would be significant losses.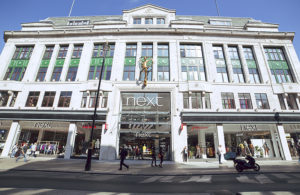 It said that methods to conserve cash in the business would include not just a delay of discretionary capital expenditure, but the sale and leaseback of a warehouse.
For the financial year ending January 2020, Next reported a 4% increase in full price sales, as well as brand total sales which were up 3.5% year-on-year.
Next chief executive Simon Wolfson said: "Demand will be the biggest issue and although the virus is likely to impact our operations, we do not believe this will be as damaging as the very significant drop in sales sustained both in retail and online.
"Online sales are likely to fare better than retail but will also suffer significant losses.  People do not buy a new outfit to stay at home.  There is some evidence from our overseas sites that as restrictions on movement increase, the difference between online and retail sales performance widens, with online picking up a small amount of the business that cannot be carried out in store."