Next has cut its profit forecast for the year by £4m, blaming higher operational costs resulting from the switch from store sales to online.
In a trading update it said: "Our central guidance for full year profit is now £723m, 0.6 per cent lower than our previous guidance of £727m."
Some £2.5m of the £4m difference is a result of the increased operational costs associated with the higher online sales. The other £1.5 million is the result of higher sales on seasonal products which have a lower margin than  clothing.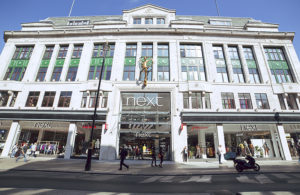 Next's full price online sales rose 15.2 per cent in the Christmas trading period (28th October to 29th December). However store sales fell 9.2 per cent.
Overall, full price sales for the period from were up one per cent. The retailer said sales were strong in the three weeks running up to Christmas, but sales in November were disappointing.
For the year to 29th December, full price sales were up 2.6 per cent with 14.9 per cent growth in online against a seven per cent fall in store sales.
For its full year to January 2019, Next estimates that total full price sales will be up 3.2 per cent on last year, while pre-tax profit, at £723m will be 0.4 per cent down.
And for the coming year it forecast that store sales would fall 8.5 per cent while online sales would rise 11 per cent. However, it warned that forecasts made now carry a high degree of uncertainty.
"This year uncertainty around the performance of the UK economy after Brexit makes forecasting particularly difficult. We have not factored into our sales estimates the potential benefits of a smooth transition or the downsides of a disorderly Brexit."