Ocado has confirmed that it is interested in a 600,000 sq ft customer fulfilment centre in Erith, South East London.
"We can confirm that we are looking for further customer fulfilment centres and are currently interested in a site for a new CFC in Erith, South-East London," said a spokesperson.
At present, specifications of the cross docked facility envisage a warehouse unit 593,425 sq ft with offices totalling 27,857 sq ft. The warehouse unit would have72 dock and 16 level access doors and there would be room for 326 acres and 287 HGVs. If the deal goes through it is though the facility could deb up and operational by 2017.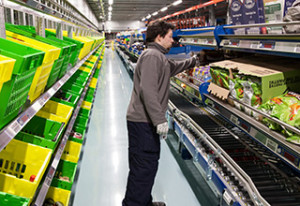 Planning consent is being sought by the developer of this site, but no definitive agreement has been signed between Ocado and the developer. We will update if and when any legally binding agreement is signed."
The site known as Crossdox is owned by Bericote Properties and is already home to a 122,082 sq ft Tesco.com facility. There is outline planning for two units on the site one of 230,000 sq ft and the larger unit totalling 620,000 sq ft. The site is just off Junction 1A of the M25 motorway.
Developer Bericote is thought to be securing funding in the region of £100 million for the project with Tritax Big Box REIT. Once that is secure it is likely that Ocado will sign and a detailed application for the facility will be submitted to Bexley Council.
Letting agents for the scheme are Altus Edwin Hill, JLL and Dowley Turner Real estate. Colliers is advising Ocado.
Ocado is also going ahead with a 36,600 sq ft delivery hub at Chequers Lane in Dagenham which is expected to open this year with the creation 300 jobs.