Ocado is to build a second customer fulfilment centre for Sobeys at Pointe-Claire, Montreal. The new site will be Sobeys' second, adding to the centre already under construction in Vaughan, Ontario to serve the Greater Toronto Area.
Sobeys has created a new brand for its e-commerce business. Voilà by Sobeys will launch in Toronto beginning in Spring 2020, while Voilà par IGA will launch in Montreal serving Quebec and the Ottawa area in 2021.
The cmpany said construction of the Vaughan CFC is on schedule. Management's latest estimate of construction and design costs for the CFC is about $95 million, an increase from prior estimates, due to incorporation of additional design elements and significant industry-wide cost inflation in construction materials, particularly steel.
It expects the cost of the CFC in Montreal to be consistent with, or less than Vaughan, as the Toronto development will enable efficiencies in Montreal.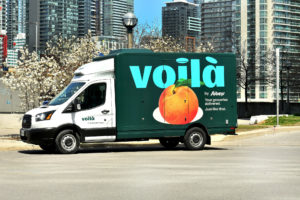 Ocado Solutions chief Luke Jensen said: "Sobeys' decision to order a second CFC in Quebec demonstrates its commitment to providing a world-class online service to its customers across Canada."
* Ocado has invested £7m to take an 18 per cent stake in Karakuri, a robotics start-up that is developing a new machine which automates the assembly of ready-to-eat meals.
The machine can be used in the assembly of all boxed meals, using a configurable, modular design which can easily be installed in-store or in "dark kitchens", and can aggregate up to 48 food items to create a wide range of food-to-go options.
Ocado expects to take delivery of the first of these automated machines in the second half of 2019.
Chief executive Tim Steiner said: "Our investment in Karakuri, potentially a game-changer in the preparation of food-to-go, gives us the opportunity to bring the best of innovation to the benefit of our own customers as well as those of our partners".
Ocado to use Morrisons' capacity at Erith after Andover fire