Ocado bounced back from the fire in its Andover fulfilment centre, posting near 10% growth across its retail and solutions divisions, signing new customers in Australia and Japan and completing the range review ahead of its shift from Waitrose to Marks & Spencer in September.
Ocado saw a 9.9% increase in turnover to £1.75bn for the 52 weeks-ending 1 December 2019, with retail sales up 10.3% year-on-year to £1.6bn and UK solutions and logistics turnover up 7.8% to £583.2m.
Losses widened to £214.5 million compared to £44.4 million a year ago, but Ocado incurred £94.1 million of exceptional items primary associated with the fire in its Andover DC in February 2019.
Ocado Group chief executive Tim Steiner said: "Although statutory results reflected a combination of factors, including the impact of the Andover fire, the underlying performance of Ocado Retail and the successful growth of Ocado Solutions were very encouraging."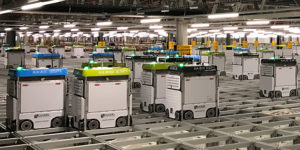 He signalled out the signing of its eighth and ninth solutions clients, Coles in Australia and Aeon in Japan, and successfully maintaining strong growth post-Andover, as reasons for growth.
Coles will initially open two customer fulfilment centres in Sydney and Melbourne. These facilities are expected to go live by the end of 2023. Aeon will develop up to three customer fulfilment centres initially.
Steiner said that the first half of 2020 would see Ocado open the first customer fulfilment centres for Canadian food retailer Sobeys (in Toronto) and French retail group Groupe Casino (in Paris).
He said that these state-of-the-art robotic facilities are "a core part of an end-to-end solution embracing automated fulfilment, an intuitive and easy to use web-shop, and hyper-efficient last-mile delivery".
Furthermore, Ocado said that preparations for the switchover from Waitrose to M&S products in September are well underway. It said that the range review has been completed, and it believed M&S has substitutes at the same price or lower, and of the same quality or better, for the majority of those currently supplied by Waitrose (which represent under 4,000 products out of the total Ocado range of 58,000).
Uniquely positioned…
Daniel Harvey, manager at management and technology consultancy, BearingPoint, said: "If they can position it effectively, Ocado are in a unique position to leverage their technology IP and sell this capability overseas, without investing a penny (or a cent) in physical infrastructure.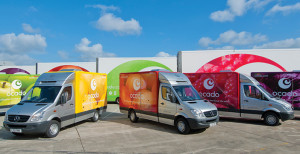 "The chosen track seems to be the offer of a complete end-to-end technological and physical solution – as illustrated in Sweden. But, could a platform model generate profitable income in the shorter-term to fuel growth, helping to combat the 2019 pre-tax loss of £214.5m?
"The question which has always lingered around Ocado remains; are they a technology business with distribution capability – Ocado Solutions – or are they a distribution business who develop their own systems – Ocado Retail? The debate continues as they deliver progress on both fronts.
Harvey also said: "As the UK's sustainability challenge heightens, Ocado could be uniquely placed to drive a grocery home delivery platform revolution; with Morrisons and M&S the key 2020 partners, who's next?"