Operating profit at Deutsche Post DHL fell 9.1 per cent to €1.26 billion in the first half, following a strike in its postal business and "unsatisfactory" earnings in its forwarding operations. Sales were up 8.1 per cent to €29.5bn.
Most of the impact of these factors was in the second quarter, resulting in an 18.1 per cent fall in group EBIT to €537m. Sales in the second quarter rose 7.3 per cent to €14.7bn.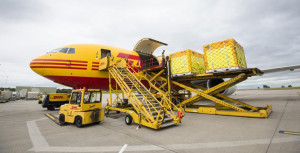 Operating profit in the Global Forwarding, Freight division fell to €40m in the second quarter from €102m the year before. Revenues in the increased by 3.8 per cent to €3.8bn. The profit fall reflected a number of factors: the turnaround programme, including comprehensive restructuring measures that the division is undertaking and on-going transformation costs, as well as continued margin pressure in the overall market. There was a positive one-off effect of €99m from the partial divestiture of the group´s stake in Chinese logistics company Sinotrans.
The group said the management of the division "is focusing on improving the operating performance of the business and has already introduced a number of changes to structure and processes within the division to address this goal. This includes, for example, giving the management of individual countries more autonomy and enabling a renewed strong focus on customers. Measures have already been initiated to improve the division's cost structure and service quality."
Operating earnings in the Post – eCommerce – Parcel division contracted in the second quarter by 60.3 per cent to €75m, although sales grew by 1.9 per cent to €3.7bn. The postal strikes in Germany had a €100m impact. Profits were also affected by investment in the international expansion of the e-commerce business.
The most successful parts of the business were Express and Supply Chain. The Express division increased second quarter EBIT by 13.6 per cent to €376m on sales up 11.8 per cent to €3.5bn.
And in the Supply Chain division, operating profit rose by 9.2 per cent to €119m in the second quarter on sales up 11.8 per cent to €4.0bn.
"In the second quarter we worked very hard and took important steps towards the successful implementation of our Strategy 2020. With that, we want to ensure the long-term, profitable growth of the Group. To achieve this, we have recorded some short-term impact on our results. At the same time, we are convinced that these measures will contribute to accelerated earnings growth in the next year and enable us to achieve all our targets set for 2016 and beyond," said group CEO Frank Appel.