Operating profit at DHL Supply Chain increased 3.4 per cent to €153m in the third quarter despite a slight fall in revenue to €3.3 billion resulting from the sale of the Williams Lea Tag business.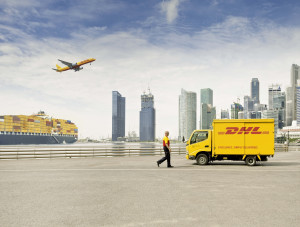 The EBIT margin was 4.7 per cent in the third quarter. The company's on-going optimisation programme is aimed at increasing the operating margin of the division to between 4 per cent and 5 per cent by 2020 by increasing standardisation, improving efficiency and better leveraging economies of scale in the global business.
DHL Supply Chain continued to generate new business, concluding additional contracts in a total volume of €252m with both new and existing customers during the third quarter.
Operating profit in the Express division was up 9.9 per cent to €409m, while revenue rose 7.2 per cent to €3.9bn.
Operating profit in the Global Forwarding, Freight division rose 58.2 per cent to €106m on revenue up 4.2 per cent to €3.7bn.
Deutsche Post DHL's total group revenue was up 1.4 per cent to €14.8 bn in third quarter, organic increase of 4.7 per cent. However, group operating profit at €376m was down from €834m for the third quarter on 2017.
This decline was down to one time charges at the Post – eCommerce – Parcel (PeP) division.
This division is being split in two – one German and one international. The German domestic business will be renamed Post & Paket Deutschland. The international parcel and e-commerce businesses, previously DHL Parcel Europe and DHL e-commerce, will become DHL eCommerce Solutions.
Group chief executive Frank Appel said: "We are tackling the challenges in our Post – eCommerce – Parcel division with determination and are making good progress in implementing the announced measures to improve productivity and the cost structure. The results of our efforts will already be clearly visible over the coming year.
"We are confident that we will reach our earnings targets for 2018 and 2020 despite the significant rise in macroeconomic risk factors in recent months due to trade disputes and currency fluctuations, for example."
For the first nine months, operating profit fell from €2.6 bn in the prior year to €2.0 bn, mainly due to the one-time expenses incurred to improve profitability at PeP.
Group revenue rose by 0.7 per cent on the prior year to €44.6 bn.