Operating profit rose 18 per cent at CEVA Logistics in the UK to reach £14.8 million for the year to 31st December 2017.
Sales rose from £394.5m in 2016 to £395.7m last year, according to the company's annual report.
The company said adjusted EBITDA rose from £20.1m to £24.5m as a result of the focus on productivity and eradicating loss-making business.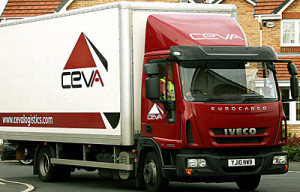 The key focus for 2018 would be revenue and profit growth, customer retention, optimising the efficiency of the operating base and working with the wide CVA group business line strategy.
In January 2018, CEVA named Eddie Aston managing director, UK, Ireland and Nordics, to take over from Michael O'Donoghue who was promoted to head of CEVA's North America cluster. Aston joined from Northgate the commercial van hire and leasing organisation where he was UK managing director.
CEVA also completed work on the first phase of a global inbound logistics project at Rolls Royce plc. This started in 2017 when the aero engine manufacturer brought in CEVA to design, implementation and management for domestic, regional and international shipment of aerospace parts.
The 3PL opened a refurbished 132,000 sq ft facility at Redditch for the pharmaceuticals sector in November last year. The site now MHRA (Medicines and Healthcare Products Regulatory Agency) approved.
And in September 2017, CEVA launched its newly expanded European Centre of Logistics Excellence.
****