The February 2015 issue of Logistics Manager is now available on iPad.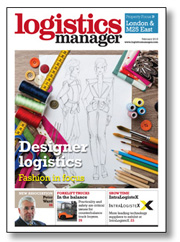 Cover Story: Designer Logistics
Fashion retail has been revolutionised in the last half decade, how has the industry coped and where will it go next?
Special report: City Link closure
City Link had been struggling with losses for several years. Nevertheless, it was a shock when the administrators were called in on Christmas Eve.
Information Technology: SCE systems
Demands on logistics operation have increased the importance of ensuring that supply chain execution systems keep up.
Forklift trucks: Safety and practicality
The challenges facing buyers of counterbalance trucks.
London & M25 East: The only way is up
Rents might have hit an all time high, but spec development is firmly back on the agenda as developers respond to demand.
Show Time: IntraLogisteX
More technology leaders will be exhibiting at IntraLogisteX, the only UK intralogistics exhibition to take place in 2015.
Portcentric Property: Renaissance movement
Port estates are re- emerging as a real alternative to traditional distribution warehouse models in the UK.
---
Get the iPad edition
Copies of this issue are available on the iPad through Apple Newsstand. Click here to visit the site.
Get your own copy of the magazine
Click here to subscribe to the hard copy of Logistics Manager.