The July 2015 issue of Logistics Manager is now available for iPad.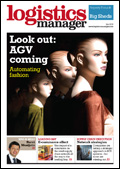 Cover Story: Prêt à livrer
Fashion has been one of the big hits of online shopping, but for the retailer the cost of getting the goods to the customer and then dealing with the returns is a significant issue. So, how can automation reduce the cost to serve?
Big sheds: Bigger is better – or is it?
Big is beautiful but is it necessary? We investigate the need for big speculatively built warehouses in the UK.
Loading bay: How E is changing the Bay
E-commerce is having an impact right across the retail supply chain – and especially at the loading bay.
Supply chain execution: Network strategies
Companies are increasingly taking a strategic approach to supply chain execution systems – but there are still those that are missing out because they have failed to invest.
Forklift trucks: Optimism returns
More confidence in the manufacturing sector is being reflected in a boost for sales of counterbalance trucks.
Round Table: You can't leave a $400m aircraft
Efficient logistics operations are critical to manufacturing high value equipment, and getting it wrong can be very expensive. A panel of industry leaders examined the challenges at our round table sponsored by Unipart.
Christmas boxes: No room at the inn
The continuing lack of warehouse supply is making temporary seasonal space even harder to find.
---
Get the iPad edition
Copies of this issue are available on the iPad through Apple Newsstand. Click here to visit the site.
Get your own copy of the magazine
Click here to subscribe to the hard copy of Logistics Manager.