IntraLogisteX is set to be a celebration of innovation in the logistics sector when the doors open at the Ricoh Arena, Coventry, on 1st and 2nd October.
Some 125 exhibitors from throughout the world of intralogistics, warehouse management and automation will welcome delegates to the only intralogistics exhibition to take place in the UK this year, while the IntraLogisteX and the Automation and Innovation seminars will both take place across the two days of the exhibition.
Exhibitors from the world of warehouse automation are AMH Material Handling; AutoStore; Bito Storage Systems; BS Handling Systems; Element Logic; Interroll; KNAPP; Linde; OW Robotics; SnapFulfil and Swisslog… among many, many more!
Swisslog is set to showcase its experience in modular and software-driven technology and will be on-hand to discuss their new era of data-based solutions at the exhibition
IntraLogistex visitors can see technology up close and personal at the Swisslog stand (324) and Shane Faulkner, head of sales for Swisslog in the UK is encouraging discussion on software solutions.
"Data is the future of warehouse efficiency," he says. "Our SynQ software offering delivers new levels of business intelligence, helping you to capture and visualise additional data produced by your warehouse."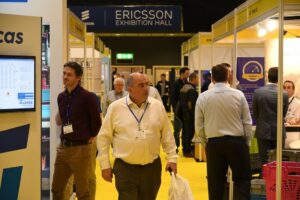 OW Robotics (OWR) on stand 322 will debut an upgraded design of its innovative goods to picker robotics solution at IntraLogisteX, as the UK's first end-to-end supplier.
The OWR stand will feature a live demo of the system, where visitors will be able to watch robots transporting pods to a picking station. The demonstration will give visitors a practical understanding of the efficiency savings possible with this system, which represents the first integrated end-to-end robotic picking solution devised in the UK to facilitate next-generation warehouse operations.
BITO Storage Systems will be throwing the spotlight on highly productive order picking at IntraLogisteX 2020.
BITO experts will be on Stand 116 to discuss the latest intralogistics techniques created from shelving and racking, live storage, bins and containers, as well as warehouse equipment and accessories for a broad array of applications – whether they are for SMEs seeking simple storage or large operations creating integrated systems.

For more details on all 125 exhibitors at IntraLogisteX go to:  www.intralogistex.co.uk
A team from KNAPP UK will be ready to welcome visitors to stand 604 at IntraLogisteX on 1st and 2nd October informing visitors about KNAPP's latest developments in AI-enabled robotics and its new pocket sorter. It will also be showcasing its full range of automated intralogistics solutions – including the OSR Shuttle Evo storage system, ergonomic Pick-it-Easy Evo workstations, A-frame autopickers, Open Shuttle AGVs, the AI-powered and cloud-based redPILOT software and the hanging garment technology of KNAPP group member, Dürkopp Fördertechnik.
Check out the IntraLogistex Conference and the Automation and Innovation Conference – also at IntraLogisteX on 1st and 2nd October!
SnapFulfil (stand 320) will showcase SnapCart, its autonomous mobile robot (AMR) that can reduce pickers' daily walking distance by as much as 15 miles to one mile. The AMR can integrate seamlessly with SnapFulfil software to ensure pickers can quickly and easily identify the right product for the right tote, driving improved efficiency and order accuracy.
Suppliers of IT and software exhibiting at IntraLogisteX 2020 include The Access Group; Chess; Indigo Software; Microlistics; OrderWise; Sage and SmartFreight while packaging specialists include Quadient; Sealed Air and Southgate.
At IntraLogisteX, Indigo's warehouse management system consultants will showcase the significant benefits of warehouse drones and detail how they can be used to support existing warehouse operatives undertaking repetitive activities.
"Indigo's goal for 2020 is to be actively working with customers to prove the benefits of using drones that are fully integrated with our Indigo WMS solution in their warehouses. We are already working on feasibility studies with UK based technology partners and our aim is to launch a solution that can be used globally," says Carl Green, chief technology officer at Indigo Software.

For more details on all 125 exhibitors at IntraLogisteX go to:  www.intralogistex.co.uk