Property investor Oxenwood Real Estate has paid £8.5 million for Godiva 170, a 171,513 sq ft warehouse unit at Blue Ribbon Park off the A444, in Coventry, West Midlands.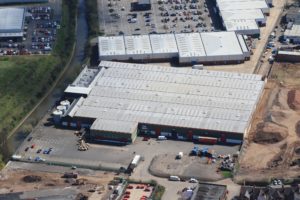 Oxenwood intends to complete a full refurbishment of the property before placing it on the market to let.
Stewart Little, co-founder of Oxenwood, said: "Godiva 170 is an excellent value-add opportunity. It is well located in an area where logistics demand is strong and we believe will be attractive to occupiers.
"The refurbishment plans are well underway, and we expect to start working on site in early 2019 with the building ready to let in May."
Rob Champion, of Fisher German the agency which sold the building, said: "We had very strong interest in the building from the moment it became available, from investors and owner occupiers wanting to buy given its first-class location, the limited availability of vacant freehold opportunities and the strength of demand for industrial and logistics assets generally.