Palletways has signed a new contract with DHL division Tradeteam to distribute beers, wines, and soft drinks across the UK and Ireland.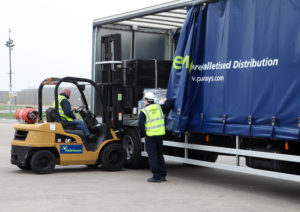 As part of the contract Palletways will deliver between 45-60 pallets per day from its Greenford depot, near Wembley in North London.
Tom Molesley, customer experience manager at Tradeteam, said:  "Palletways London has a lot to offer, thanks to its innovative IT systems and wide geographical coverage in the UK and Europe. The portal, transparent track and trace and ETA updates throughout the network have been invaluable."
Palletways will offer Tradeteam full track and trace through its online portal, fed by GPS, providing real-time updates on customer orders via email and SMS alerts, and gives a two-hour estimated time of arrival window for all deliveries.
Colin Sturgess, general manager at Palletways London, said: "The depot is making excellent progress, with constantly-growing volumes. Our work with Tradeteam is testament to the quality service we provide and our vision to be the pallet carrier of choice in the South East and nationally."

The 24th Supply Chain Excellence Awards, with new categories for 2020 – including the Food and Drink Supply Chain Excellence Award – will take place on 12 November. For more information, including how to enter and sponsorship opportunities, contact daniel.jessop@akabomedia.co.uk