Pall-Ex has expanded its operation by welcoming back well-established founder member, Panic Transport.
Rugby-based Panic Transport, which was one of the founding members of the Pall-Ex network, has now rejoined to network to cover the Coventry area.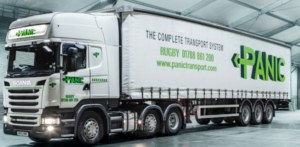 Kevin Buchanan, group managing director at Pall-Ex, said: "It is a pleasure to welcome Panic Transport back to the network and have such a renowned Midlands name working in partnership with Pall-Ex.
Panic Transport is now part of Kinaxia. Managing director Kevin Johnson said: "We are keen to return to our roots, having been a founding member of the Pall-Ex network, as we have seen its service levels go from strength to strength.
"The move also means we can increase the wide range of services we offer at Panic Transport by providing a next day UK service to meet our customers' needs and comes at an exciting time for us, as it will enable us to continue to grow as a company."