Element Logic has joined forces with RightHand Robotics to launch a commercial test project which integrates its software system for managing AutoStore with RHR's RightPick robotic piece picking system.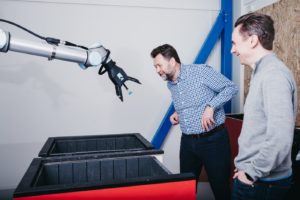 RightHand Robotics' RightPick robotic piece picking system has cameras for eyes and an advanced gripper developed. It runs on a Graphic Processing Unit that is designed to process enormous amounts of data quickly and uses machine learning to perform various tasks, learning how to grip packages in various shapes and sizes in the most practical and efficient way.
Combining the two technologies will enable any warehouse using Element Logic's solution to increase their level of automation, decrease operational costs, and increase overall profit. It will be particularly useful in e-commerce and distribution centres.
"This is the future of intralogistics. This is cutting edge technology. Our new RHR project could help to further enhance Element Logic's AutoStore solution. We are still in the test phase, but we are encouraged by the advances our team of experts have made so far," said Element Logic chief technology officer Steinar Overbeck Cook.
If the test project is successful, Element Logic hopes to add RightPick to its product portfolio in late 2019 or early 2020.