PD Ports has launched a second rail service running directly between Teesport and Scotland. The service will run five days a week from the quayside at Teesport to PD Stirling Terminal at Mossend in Glasgow.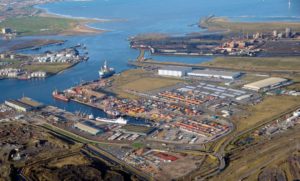 Services timetable will operate in direct connection with the P&O Ferries service calling daily at Teesport from Zeebrugge and Rotterdam to create a vital connection.
"Our customers will benefit greatly from the increased connectivity which this second rail link to Scotland will give Teesport," said P&O Ferries chief executive Janette Bell.
"In tandem with our highly cost efficient 15 hour sailings to the continent, we can guarantee both exporters and importers an unrivalled service to and from northern Britain."
David Coppock, Department for International Trade, North East Region director northern powerhouse, said:"This new service is further proof of how significant and important Teesport is to the Tees Valley in expanding its global reach. PD Ports is providing further vital investment in the region by opening up frequent, efficient and flexible transport routes for international trade."