A year-long trial of plug-in hybrid electric commercial vehicles in London suggests they could be the most practical, readily available option for businesses trying to meet clean-air targets in cities, according to Ford.
Over the past year, 20 Ford Transit PHEV vans have covered more than 150,000 miles.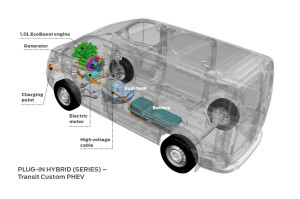 During the trial, 75 per cent of the fleet's mileage in Central London and 49 per cent in Greater London was completed using pure electric power. The results highlight that even without a fully established electric vehicle charging network, the hybrid vans were able to reduce tailpipe emissions in the inner city, using the flexibility of a petrol range-extender to complete longer journeys when required.
Participants in the trial include Addison Lee Group, Autoglass, British Gas, Clancy Plant, DPD, Heathrow Airport, Interserve, Mears Group, the Metropolitan Police, Morrison Utility Services, RNLI, Royal Mail, Speedy Hire, Sky, Transport for London and Vodafone.
Mark Harvey, director of Ford's Urban Electrified Van programme, said: "This trial is the first time Ford has given such early prototype vehicles to customers, and we've been able to incorporate their feedback directly into the production van. The response has been overwhelmingly positive – operators don't want to give them back."
Ford has incorporated learnings from the trial of prototype vehicles to optimise the Transit Custom Plug-In Hybrid production model that will go on sale to customers at the end of 2019. Enhancements include increased motor performance, optimised operating strategies, and revised displays to educate drivers in achieving maximum electric regeneration.
The new vehicles target a zero-emission driving range of 50 kilometres (31 miles), and use a 1.0-litre EcoBoost petrol engine as a range extender for total range exceeding 500 kilometres (310 miles), thus eliminating range anxiety. A compact battery pack located under the vehicle floor can be conveniently charged using a standard 230-volt supply, and is designed so that the interior space and load capacity of the vehicle is not compromised.
Ford has also set out plans for an all-electric Transit to join the company's European line-up of electrified commercial vehicles in 2021.