Plans for a 755,820 sq ft mega shed at Gazeley's Magna Park South scheme in Lutterworth have been given the go-ahead by Harborough Council.
Harborough Council's planning committee met to vote through the plans for the speculative warehouse last week.
A council document released ahead of the decision said: "It is acknowledged that the proposed development has previously caused considerable concern within the local community, and this is evidenced by the content of the objections which have been received. Notwithstanding this, it is considered that the regional and national benefits of the scheme significantly outweigh the conflict with the development plan and the other limited harms which would result from the proposal."
Logistics Manager broke the story of Gazeley's intention to build the mega shed speculatively in October last year.
The huge facility is one of four properties on a speculative scheme totalling 1.3 million sq ft being brought forward following the developer's acquisition of a 220-acre tranche of land from Tritax Symmetry, known as Magna Park South.
Work is underway on the first three units totalling 525,400 sq ft, comprising of a 300,300 sq ft unit; 126 300 sq ft unit and 98.800 sq ft unit.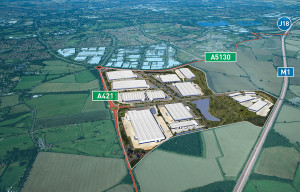 A further extension to the Northern side of the park is also being developed on 225 acres of land, which will offer build-to-suit development options in a range of sizes with units from 100,000 sq ft up to 1 million sq ft in a single unit, and overall up to 3.3 million sq ft across the Northern side of the park.
Bruce Topley, senior director at Gazeley, said: "In light of the continued high demand for logistics space, particularly in this area, we are confident that these buildings will be a welcome addition to the market.
"Situated right in the heart of the "UK's Logistics Golden Triangle", the development is ideally suited to serve the fast-expanding supply chain operations of our customers."
The new cross-dock mega shed will boast 18m eaves, 100 dock and eight level access doors and will have parking for 557 cars and 150 trailers on a 31-acre site.
As usual with Gazeley it will also include a host of sustainability features and will reach BREEAM Excellent.
The last time such a large warehouse was built speculatively in the UK was in 2005/6 when HelioSlough, a joint venture between Slough Estates – now SEGRO – and Helios Properties, built the 750,431 sq ft Nimbus warehouse in Thorne, near Doncaster, South Yorkshire.
The scheme was forward funded to the tune of £42 million by CBRE Investors and was originally let to DHL/MFI on a ten-year lease at an annual rent of £3.075 million in 2007. The cross dock property has 15m eaves as well as 75 dock and 13 level access doors.
Following the collapse of MFI, the property was relet to The Range on a £20 year lease at a rent believed to be around £4 per sq ft with five yearly rent reviews. It was sold to Tritax Big Box REIT for £48.5 million, reflecting a net initial yield of 6.1% on the asset acquisition, assuming 5.8% purchase costs.
DTRE and Burbage Realty are advising.