Leigh Pomlett, executive director of CEVA and president of the Freight Transport Association, has bought Walsall Football Club.
Pomlett has been a Walsall supporter since childhood and became a director of the club in 2010. He has taken over as majority shareholder and chairman of the club after acquiring a 76 per cent shareholding from previous owner Jeff Bonsor.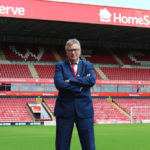 After 40 years in the logistics industry, Pomlett told the club's web site he would now look to spend more time focusing on club matters.
"This is an exciting new chapter," he said. "I have been involved with the club at board level for the best part of a decade and have been a supporter for over 50 years.
"I have been fortunate in my career to have occupied a number of high profile, demanding positions. This has meant that I haven't always been able to dedicate the time I wanted at the Football Club but now I plan to do just that."
His career in logistics has included a spell as operations director for BRS before moving on to Exel Logistics where he became president of the Automotive division based in the USA followed by a return to Europe as the CEO for Europe. Following an acquisition he then became the CEO for DHL in Mainland Europe before moving on to CEVA Logistics as European president based in both Amsterdam and Zurich.